How can I tune the sound in my Dobermann Performance exhaust ?

A very unique feature with the Dobermann Performance exhaust system is that you can tune the exhaust sound character to your personal preference, and it is quite easy to do.

Most of our exhaust systems have two exit pipes. Each of the exit pipes contains a DB-killer which can be removed.

This gives you the first 3 options:
Both DB-killers installed
One DB-killer removed
Both DB-killers removed

To remove the DB-killer from the exhaust, take out the rubber plug from the inside of the carbon end shield, and remove the bolt that holde the DB-killer in place. Now you can pull the DB-killer out of the rear end of the exhaust.

But the fun does not end here, because, the DB killer itself can also be adjusted.

The DB-killer is a pipe with four rows of holes in it, and you will see that there is a metal disc inside the pipe that will ensure that the exhasust gasses are passing the holes in the DB-killer.

The metal disc is bolted in place in the very front of the DB-killer (The "front" as in facing forward when the DB-killer is oinstalled in the exhaust) This is the standard position which will give you a nice deep exhaust sound that is not excessively loud.

You have the option to move the disc further backward to limit the amount of holes that the exhaust gasses can pass, and this will make the noise level even lower.

NOTE: Do not move the disc more that 4 holes backward (the front hole counts as number one). If you move the disc further backward, you will restrict the exhaust flow too much which will limit top end power.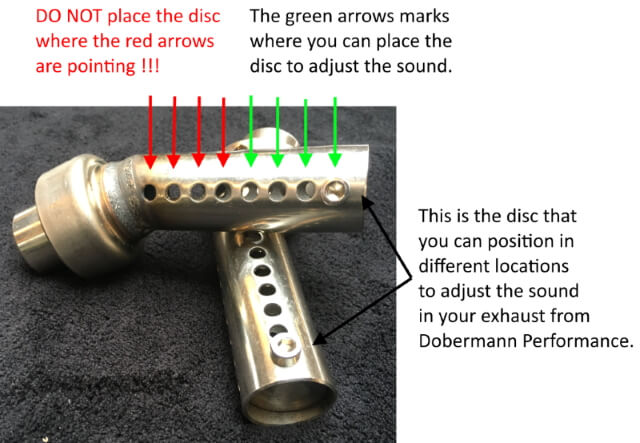 Another option is to remove the disc completely but keep the DB-killer installed in the Exhaust. That way you will increase the noise level, but still less than if you removed the DB-killer completely.

So the options are:
DB-killers removed or installed
Disc in the DB-killers removed or installed
Position of the disc in the DB-killer

You can combine these options as you please to give you the sound that you prefer !